View all posts
COVID-19 Update- Lobby Closures
3.18.20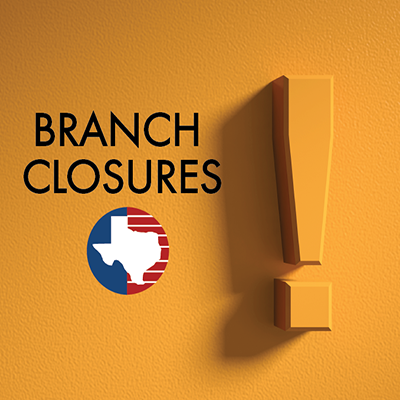 To our valued customers:
TexasBank has continued to monitor the COVID-19 preparations and precautions. As such, we have made the decision to close the following lobbies effective Monday, March 16, 2020:
• Camp Bowie (Brownwood)
• Market Place (Brownwood)
• Graham Street (Stephenville)
The drive thrus in ALL branches will be open, including those above with a closed lobby.
All other lobby locations will be open doing business as usual. However, if you need to do in person business, we ask if you are feeling ill in any way, you refrain from coming inside the bank so we can protect those most vulnerable to this virus. Our drive thrus will be equipped with customer service personnel to assist you where needed.
As a reminder, you can bank virtually anywhere, anytime with the TexasBank mobile app and at TexasBank.com
If you aren't currently using these services then you can download the app in the Apple or Google App Stores or enroll in TexasBank Online at www.texasbank.com.
Again, as we follow the guidance of the CDC and our community leaders, we will keep you informed of any further changes.