View all posts
COVID-19 Update
3.12.20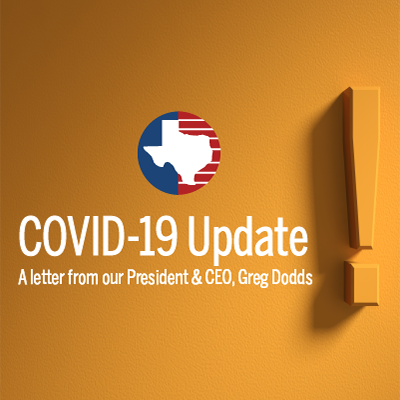 To our valued customers at TexasBank:
Like you, we are monitoring the latest news about COVID-19. We want to assure you that the health and well-being of our customers, associates and communities is our top priority and that we are committed to being responsive this situation as it evolves.
TexasBank has a formal contingency plan in place and has practiced and prepared for pandemic scenarios. Consequently, we are prepared and have identified the necessary steps to continue to provide you service if the situation worsens and begins to directly impact our markets. In the meantime, all our branches remain open and operating as usual, but we are taking the extra effort to keep each location clean and disinfected to protect our customers as well as our employees.
For those of you that might already be concerned about person to person contact, we want to remind you that you can bank virtually anywhere, anytime with the TexasBank mobile app and at TexasBank.com. If you aren't currently using these services then you can download the app in the Apple or Google App Stores or enroll in TexasBank Online at www.texasbank.com.
As we follow the guidance of the CDC and our community leaders, we will keep you informed of any changes we make to our daily procedures.
Greg Dodds
President and CEO