View all posts
10 Tips to Stay Safe Online
May 22, 2017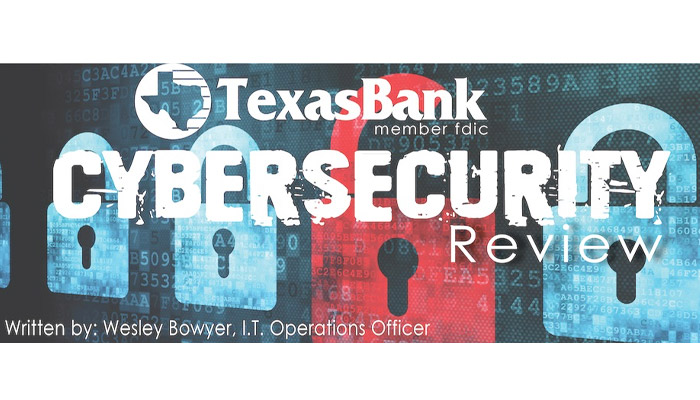 Cybersecurity Review
May 2017
10 Simple Tips For Staying Safe Online
I recently went to a conference where one of the speakers provided a list of tips that could be handed out to employees to promote better security in the workplace, but that could also be used at home, and I'm excited to share those with you today. TexasBank does extensive training for employees with our security policies, so these are great tips to use for your home and office computers:
If you are still running Windows XP, it's time to upgrade. Microsoft discontinued support for that operating system in 2014, which means hackers have had three years to work on vulnerabilities that will never be fixed. Depending on what you need your computer for, you can get a new laptop for browsing the internet and sending email that runs Windows 10 for as little as $200 at Wal-Mart or any number of other places online.
Always install Windows and OSX updates when they are available. Updates are released when a vulnerability is found, which means hackers have already been using them. If you see you have updates pending, install them as soon as possible. This applies to JAVA, Flash, and other updates as well.
The same goes for your mobile phone. If an update is available, install it. If your phone can't update to the latest version, it may be time to consider a new phone.
When you download new software from the internet, pay attention to the options that are displayed instead of clicking "Next" until it is done. Many installers try to install Google Toolbar, Ask Toolbar, or other software that you may not need. It's usually as easy as unchecking a box before you click to go to the next screen.
Always run antivirus software, and be careful which one you choose. Malware will disguise itself as a legitimate product, and do nothing more than take your money and infect your computer. Stick with a well-known company, such as McAfee, Symantec, Kaspersky, or Avast. Only download or purchase these from vendors you trust. It's also usually a good idea to pay a little more for the full protection suite if they offer one; and like everything else, keep it updated.
To supplement your antivirus, MalwareBytes free version is good to have running on your computer. This is a good anti-malware detector. Please only download it from malwarebytes.com. This is a very popular program and many hackers have links they would love for you to click on to take you somewhere else when you do a search.
Ads are another way that computers get infected, so consider installing Adblock Plus from https://adblockplus.org. This is a plugin that can be installed for your web browser. Keep in mind that some websites generate revenue using ads, so not all businesses are trying to infect you! However, it will help to cut off one more avenue of infection.
In order to keep web surfing safe for any children that may be using your computer, you can get a free internet filter at opendns.com/home-internet-security. It comes preconfigured to block adult content, and is can be customized further if needed.
Do not let children install new games or apps without your supervision. Apps ask for specific permissions to grant access to different areas of your phone. If you aren't watching, your contacts, photos, phone calls, and other information can be transmitted without your knowledge.
Do your research!! Websites like https://staysafeonline.org and https://onguardonline.gov are good resources. There is also http://www.netsmartz.org that is geared toward children.