View all posts
2017 Promotions
February 7, 2017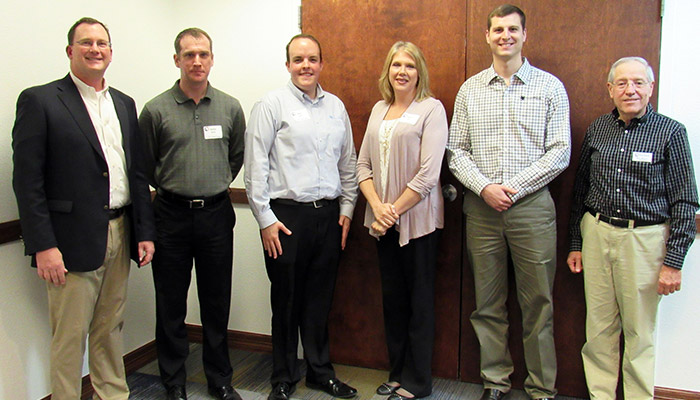 Greg Dodds, President and CEO of TexasBank is pleased to announce the promotions of four employees including: Daniel Hutson, Shannon Gober, Wesley Bowyer and Brent Bible.
"We are proud to have quality professionals like Daniel, Shannon, Wesley and Brent on the TexasBank team", Dodds stated. "These promotions are well deserved. Their hard work and dedication toward serving the needs of their customers as well as the community in which they live fall directly in line with the core values of TexasBank."
Daniel Hutson was promoted from Assistant Vice President to Vice President, Commercial Lending. Daniel is a 2009 graduate of Howard Payne University and started with TexasBank in 2015. He is the current Board President of the Brownwood Area Chamber of Commerce, a board member of the Lehnis Railroad Museum Advisory Board, member of the Brownwood Kiwanis and a member of Coggin Avenue Baptist Church. He is married to Emily and they have two children, Eli and Annie.
Shannon Gober was promoted from Loan Operations Officer to Assistant Vice President, Loan Operations. Shannon is a 1989 graduate of Brownwood High School and has been with TexasBank since 1998. She and her husband, Kirk attend Victory Life Church and have two married sons and two grandsons.
Wesley Bowyer was promoted from I.T. Manger to I.T. Operations Officer. He is a 1995 graduate of Blanket High School and has been with TexasBank since 2002. Wesley is well versed in banking as he started in the mortgage department and spent some time in the compliance department before finding his niche in I.T. He is married to the love of his life Sheryl Bowyer and they have three cats.
Brent Bible has been promoted from Account Services Representative to Loan Officer. Brent is a 2014 graduate of Tarleton State University and grew up in Eastland where he graduated in 2008. He has approximately 3 years of experience in the banking industry. He joined TexasBank in October 2015 with the Bangs Banking Center and has recently relocated to the Eastland banking center. Brent and his wife Charity have two sons.
TexasBank offers a portfolio of products that rivals the big banks along with the service that only a true community bank can provide. With its corporate offices in Brownwood, TexasBank operates within 4 counties, and has 8 branches. TexasBank is an Equal Housing Lender and Member FDIC.