View all posts
TexasBank leads Junior Achievement
07/11/19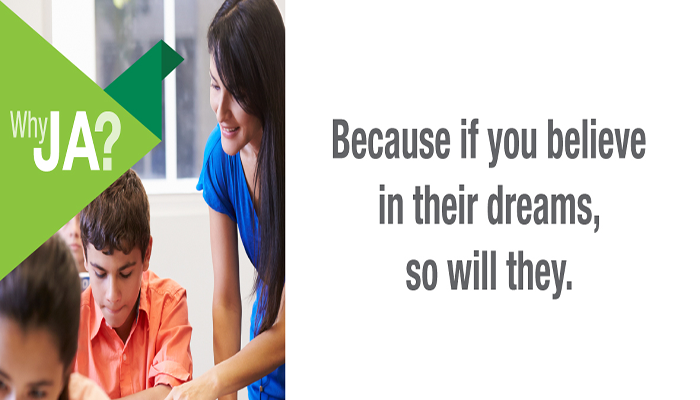 PRESS RELEASE
For Immediate Release:
July 11, 2019
Contact:
Daniel Hutson, Member of the Board, Brownwood Representative
Junior Achievement of Abilene
940-550-5544
[email protected]
www.jaabilene.org
Sarah Franz, Executive Director
Junior Achievement of Abilene
325.677.3557
[email protected]
www.jaabilene.org
BROWNWOOD HIGH SCHOOL SENIORS COMPLETE JA PERSONAL FINANCE PROGRAMS BY JUNIOR ACHIEVEMENT
Brownwood High School Seniors Learn Personal Finance Skills from Local Professionals
BROWNWOOD, TX – (July 10, 2019) – Beginning in early April, the 96 local students in all of Brownwood High School's five spring economics classes began receiving guidance in the area of personal finances from some of Brownwood's local business professionals. An additional 78 students Brownwood High completed the program this past fall 2018 semester. The program – JA Personal Finance® - focuses on earning money; spending money wisely through budgeting; saving and investing money; using credit cautiously; and protecting one's personal finances. Following participation in the program, students will be able to recognize the fundamental elements of smart personal finances. They also will be able to apply those elements to a personal financial plan that allows them to set specific goals for their lifelong financial needs and desired quality of life.
This program is composed of five sessions and is designed to support the skills and competencies identified by the Partnership for 21st Century Skills. JA programs also correlate to Texas Essential Knowledge & Skills standards in social studies, English, and mathematics, and to Common Core State Standards.
Perhaps the most "signature" quality of Junior Achievement (JA) is that these materials are administered in the classroom by a local volunteer! In Brownwood, local business professionals with TexasBank, Edward Jones and Pintail Companies have volunteered their time with Junior Achievement for the 2018 Fall and 2019 Spring Semester.
Mike Fernandez – the Junior Achievement of Abilene Board Chairperson – had this to say about the JA Personal Finance program in Brownwood: "I wish someone had taught me these things before I left high school. The looks on the students' faces when we teach the content really says it all. If we can get through to the students, especially those from low-income backgrounds, and have a positive impact on their lives, or break a cycle of poverty, then we have been successful. We are grateful to know that business professionals in Brownwood are doing what they can to help students prepare for a happy and productive life. We are proud that Junior Achievement is a resource the Brownwood community is utilizing as a foundation for doing that."
In addition to the benefit of personal finance skills, students also receive the opportunity to apply for one of Junior Achievement's ten available scholarships totaling an amount of over $50,000 paid over four years. The amount of each individual scholarship varies based on the scholarship for which they apply and may receive.
About Junior Achievement in Brownwood (JA)
Junior Achievement is the world's largest organization dedicated to giving young people the knowledge and skills they need to own their economic success, plan for their future, and make smart academic and economic choices. JA programs are delivered by corporate and community volunteers that provide relevant, hands-on experiences that give students from kindergarten through high school knowledge and skills in financial literacy, work readiness and entrepreneurship. Since 1983, Junior Achievement of Abilene has served over 100,000 students in the Big Country. During the 2018 – 2019 school year, JA of Abilene is excited to include approximately 21 Brownwood programs among their 160+ classroom programs and over 3,000 students served.
JA has been involved at Brownwood Middle School for the past six years in partnership with the 3M Company. New partners this year include Austin Avenue Church of Christ, Coggin Avenue Baptist Church, and First Baptist Church Brownwood. Returning partners include Howard Payne University, Ranger College, Edward Jones, TexasBank, Painter and Johnson Financial and Citizens National Bank.
For more information, refer to the Junior Achievement website at www.jaabilene.org. If you would like more information about supporting JA in Brownwood or volunteering when the programs begin in the spring semester, please contact Daniel Hutson at [email protected] or the JA office at [email protected].